Smoke Tree's Desert Charm Enchants
Young and Old at 50th Celebration
There was lots of fun in the hot desert sun as the largest AMTA group in many, many years returned to Smoke Tree Ranch for a 50th Anniversary Celebration!  Variety was everywhere in both CME and tennis – with talks ranging from a fascinating look at Andy Warhol's bullet wound surgery and the immigrant surgeon who saved his life, to a lively discussion of "low T".  The AMTA suite at the BNP Paribas Tournament was another favorite, watching a stellar parade of champions that included Nadal, Venus, Federer and Djokovic, from a cool and comfortable perch.
The popular Team Tennis competition featured the usual contingent of competitive physician/athletes, but also an engaging group of sweet-swinging teens who accompanied their parents on the trip, and even a spry and spunky contingent of 80+ year olds who proved to everyone they've still "got game"!
As always, the highlights were many:
•   The international flair provided by Eivind Aabel and Magdalena Todorow, the attractive young Norwegian pair of medical residents who joined us for the first time and fit right in;
•   The enthusiasm of first-timers Chuck and Lauren Daly, who already signed up for 2018;
•   The always-formidable tennis of Bonnie Sidoff, now WMTS President-elect, who with partner Peter Monsantofils make an impressive mixed doubles team;
•   The big serve of Doug Bell, who also brought along longtime buddy Jeremy Eaton; Jeremy played more tennis than he had in years, signed up for next year and is planning to take lessons at home – watch out in 2018!
•   The unique contributions of nutritionist Jil Feldhausen – who arranged for a representative from InBody USA to offer participants a body composition analysis by the pool – and tennis pro husband, Britt, who added a strong presence to the men's draw;
•   The wonderful attitude (not to mention graceful strokes) of 92-year-old Mary Hallowell, who uttered not one word of complaint even though her room turned out to be the farthest from the courts;
•   The consistency of Lindsey Horenblas, who won a mixed doubles trophy with Jen Brunsdon, and wanted to play in every available match;
•   The Kim family, Michael and Monique, whose tennis was almost as impressive as their four young children were adorable;
•   The Opening Banquet reunion of long-time AMTA members who were there when the group was formed: Jack Jacobson, Chuck Supple, Bud and Carol Foran, and Cal and Ginger Nash;
•   The spirited, hard-working team captains Dawn Eckert (Ace Inhibitors), Kay Coghlan (Tenacity), Martha Neumann (Tennis Addicts) and Monika Dalkin (Prickly Pears) who, with patience and excellent communication skills, took schedule changes, heat and even injuries in stride to insure a fun tournament for all – while their spouses, CME Director Randy Eckert, President Bruce Dalkin, and new Board members Jim Coghlan and Kurt Neumann provided a different kind of leadership;
•   The indefatigable and undefeated Igor Sister, who was last seen at dawn on the final morning, hitting with teenager Natan Bondin as the morning sun peeked over the Santa Rosa mountains;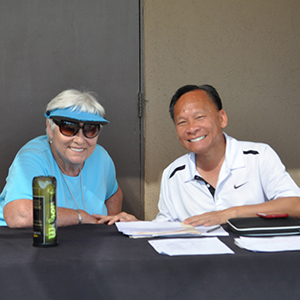 •   The delicious and quickly devoured sandwiches provided by the Watercress Vietnamese Bistro, Phong Nguyen's wonderful new Palm Springs restaurant; Phong meanwhile, (the ultimate multi-tasker) provided his usual unflappable, enthusiastic leadership behind the tournament desk, entertained with a song and played frustratingly consistent tennis, all with the greatest of grins;
•   The ageless, always helpful and positive Olsens, former Executive Director Betty and Lon;
•   The fearsome doubles team of surgeon brothers Russell and John Ryan; John tormented opponents with his slices and chips, and entertained the CME group with his tale of Andy Warhol's gunshot wound, while Russell was a welcome newcomer whose steady tennis complemented his brother's unconventional style; wives Susie Ryan and Jody Foster were also delightful participants, helping with the lawn bowling while finding time to explore local arts attractions, including the very unique Desert X installations;
•   The Texas charm and continued improvement of Jack's wife, Liz Rutledge;
•   The discovery of Nancy Salyapongse's unexpected lawn bowling prowess, and Amorn's great laugh;
•   The well-deserved presentation of the Craig Broome Award to long-time member Bob Combs, who with wife Mimi have been consistent, enthusiastic members from the earliest years of the AMTA;
•   The remarkably smooth movement and classic strokes of 89-year-old Sy Myint;
•   The wicked angles and spin of John Kirkpatrick;
•    The consistent mastery of undisputed mixed doubles champions Bruce and Monika Dalkin, wherever the venue;
•   The added sparkle on the faces of Judy Neldam and Peter Sefton … could it be their upcoming July wedding?
•   The return after many years' absence of John Curnes from North Carolina and Bob and Dee Lorenz from Kentucky, who thoroughly enjoyed the desert ambiance and festivities – the Lorenz pair even finding time to explore nearby hiking trails;
•   The family reunion of Green Hsueh and KK Hsu with Jimmy and Marie Liu, who traveled all the way from Taiwan; Jimmy and KK are cousins who hadn't seen each other in 40 years;
•   The ready smile and easy-going nature of Montanan Jen Brunsdon, who brought the delightful teen pair, her twins Fiona and Bridget Powers, an impressive high school doubles team who also charmed with their outgoing personalities and tennis skills;
•   The two Texans – radiologist Luba Frank and hand surgeon Emmie Ko – who not only gave excellent lectures, but also brought their well-mannered teens, Natan Bondin and Allison Ko, whose powerful young tennis games and engaging personalities added much to the tennis competition;
•   The multiple contributions of congenial Canadian Paul Keith, whose tennis was superb, as was his lecture on angioneurotic edema;
•   The affable Koehntop family, Douglas and Edla, who returned after a year away with daughter Krista Johnson, a teacher enjoying a spring break getaway;
•   The father-son duo of Californians Richard and Randy Sall, who have made Smoke Tree an annual family tradition;
•   The still-enthusiastic participation of Steve and Jan Waszak, despite scheduling conflicts and even injury;
•    The exuberance of octogenarian Alan Solomon, who introduced the CME group to the intricacies of appropriate use of dynamic ultrasound for shoulder injuries;
•    The calm demeanor, steady play and joke repertoire of  "dream partner" Luis Cespedes;
•    The surprise visit of gracious Kit Jackson, the love of AMTA benefactor CraigBroome's life, at the Opening Banquet;
•   A stellar CME program highlighted by Loma Linda professor Tony Firek's talk on low testosterone, which sparked a record number of questions from the male half of the audience; Tony will hopefully return next year with his pediatrician wife Mary, a nationally-ranked player in the 60s division.
Despite a second year of record heat, it was a grand week in the desert — and we hope all will mark their calendars for a return visit to Smoke Tree Ranch same time next year!  And finally, our heartfelt gratitude to the talented Emmie Ko, whose considerable photographic skills captured all the fun times and good tennis you see above.  Thank you, Emmie!