Lima, Peru
October 8 to 14, 2016
Viva Lima!
Led by five newcomers to WMTS competition – whose gritty, determined performances boosted the record U.S. medal count – 42 Americans descended on this teeming South American city in October, savoring its world-class cuisine, friendly culture and fascinating history, surviving its memorable traffic jams, and saluting the unique camaraderie of WMTS competition.  The first-ever U.S. women's Nation's Cup team was impressive, finishing second to a strong young team from Finland, while a very competitive U.S. men's Nation's Cup team lost a memorable battle to eventual champion Germany.  As always, there were many highlights to share …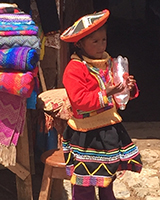 U P C O M I N G      
Society for Tennis Medicine and Science
Amelia Island, FL
December 2 to 4, 2016
Details
---
Smoke Tree Ranch
Palm Springs, CA
March 12 to 17, 2017
AMTA's 50th Anniversary Celebration
Details
---
WMTS World Meeting
Plzen, Czechoslovakia
August 19 to 25, 2017
---
AMTA Fall 2017 Meeting
Florida site tbd
November 5 to 10, 2017
More details very soon!
An East Coast 50th Anniversary Celebration
H I G H L I G H T S
The endurance and stellar play of indefatigable ironwoman, Harvard pediatrician Vicky McEvoy, who anchored the women's Nation's Cup team and won gold in 65+ Women's Singles, 60+ Women's Doubles with Kay Coghlan, and 55+ Mixed Doubles with Art Lee; Vicky was clearly the American MVP!
The brotherly duo of Chris and Pat Fowler, who reprised their collegiate pairing at Santa Clara to bring home the gold in a very competitive 50+ Men's Doubles category;
The unexpected treat of having ball boys – on every court, for every match;
The impressive double gold of newcomer Art Lee, who won 60+ Singles and Mixed Doubles, and teamed with Bruce Dalkin to almost beat the unbeatable German 55+ Men's Doubles team in one of the most entertaining matches of the entire tournament – then spent his evenings with wife Carmen Martinez satisfying their foodie cravings at world-renowned Peruvian restaurants;
The stunning, starkly beautiful pre-Incan archeological site of Huaca Pucllana, setting for a lively cultural evening featuring Peruvian foods and dancing;
Friendly Terry Mitchell's willingness to play mixed doubles with a partner "from any country in any age group" while determined wife Kris Mitchell hiked the Inca Trail;
The helpful translation skills, and big topspin forehand, of Peruvian-born New Yorker Jorge Reiley;
The golden success of our first dentist competitor Mike Dahm, who won both 65+ Men's events, and played a solid Nations Cup match against unbeaten Germany's top player;
The wry good humor displayed by Igor Sister, whose flight through Miami was delayed two days by Hurricane Matthew;
The remarkable court coverage and movement of Sy Myint, oldest player in the tournament, who lost to the legendary Swede who has won gold in every age group for over 40 years;
The extra effort of double gold winner Hugh Burris, protecting wife Carol's injured shoulder and winning gold in 65+ Mixed Doubles; Hugh also won 65+ Men's Doubles with Mike Dahm;
The loud, colorful nationalism on full display in Nations Cup competition, particularly among the Italians and Peruvians!
The exploration of Lima enjoyed by Dawn Fowler and Carmen Martinez, who proved you could have fun without a tennis racket in your hand;
Chris Fowler's heartbreaking 10-8 super-tie-break loss to the 50+ Men's Singles champion, as a noisy contingent of Peruvian medical residents cheered their mentor from the sidelines;
The latest jokes from our favorite soft-spoken comedian, Luis Cespedes;
The usual superb tennis of women's Nation's Cup captain Bonnie Sidoff, who led her team of MDs Vicky McEvoy, Marie Henselder-Kimmel and Jacqui Davis to the final in their first effort;
The proud captain of Canada's first Nation's Cup team: Mike Dawson;
The inimitable Frank Sladkovic, who battled a GI bug but returned toting his tennis gear, ready to hit with anyone;
The helpful iPhone advice of newcomer Tonja Dahm, who paired with Jane Dawson to win bronze in 50+ Women's Doubles;
The congeniality of Peter Monsantofils, who somehow found humor in the biggest transportation snafus – and brought home silver with Bonnie Sidoff in  60+ Mixed Doubles;
The solid play of Melinda Voda, who overcame a bad tennis elbow to fill in for the injured Carol Burris, teaming with steady Sai Leng in 65+ Women's Doubles;
The two new men's doubles pairings who both won bronze:  Jim Manion and Kris Vadlamudi in the 75+ category, and Kurt Neumann and Jan Voda in 70+ bracket; Jim was also the winner of 75+ Men's Doubles Consolation Singles over Luis Cespedes;
The seemingly unlimited supply of Pisco Sours;
The always smart doubles game of Monika Dalkin, who won two golds: 55+ Mixed Doubles with husband Bruce, and 55+ Women's Doubles with Bonnie Sidoff;
Kay Coghlan's impressive singles battle with the Peruvian star, former national champion Mariella Aboud;
The father-son duo of Taiwanese Americans Chi-Peng Wen and his son, Chris Wen, who was attending his first WMTS meeting;
The excellent dinner at Los Bachiches arranged especially for the Americans by tournament chair Cesar Villeran;
The best ambassador for WMTS tennis ever: Jim Manion;
The deceptive, well-disguised drop shot of Vitt Leng, who lost two very close super-tie-break matches playing with John Kirkpatrick in the 65+ Men's Doubles; John was consoled with a silver in 65+ Mixed Doubles playing with wife Cori;
The friendliest American newcomer, Martha Neumann, who had fun with every international interaction – from a delightful pair of Swedish octegenarians to a handsome young 6'8" German named Joe.
All in all, the first WMTS meeting in South America was a stunning success.  And to top it off, with warm memories of Lima still fresh in their minds, 22 of the American group headed off on an extended adventure exploring Machu Picchu and the Sacred Valley.   It was truly unforgettable!