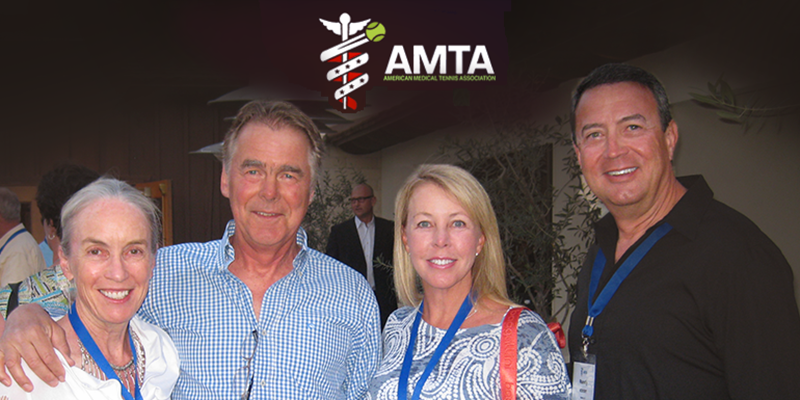 Return to Smoke Tree Ranch Delights Members New and Old
March 15 – 20, 2015  •  Palm Springs, CA
The understated ranch-style elegance of Smoke Tree Ranch won the hearts of a recent-record 72 AMTA members this spring.  Sunny days brought more than enough competitive tennis for all, an impressive CME lecture series that garnered rave reviews, friendly conversations in the shade and – as luck would have it – a day at the BNP Paribas tournament that boasted a parade of superstar matches featuring Serena, Rafa, Maria and Roger, with the Brian Brothers topping off the evening for the hardy enthusiasts willing to stay past midnight!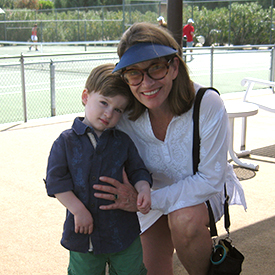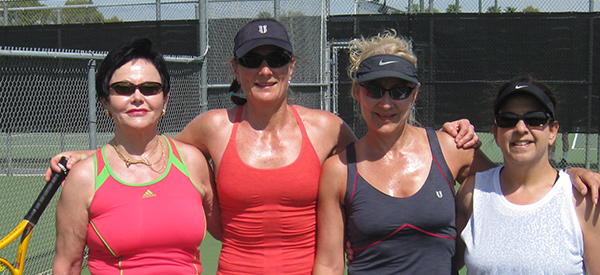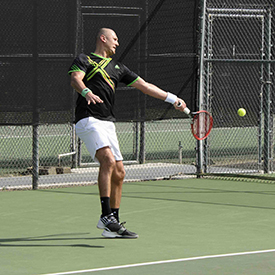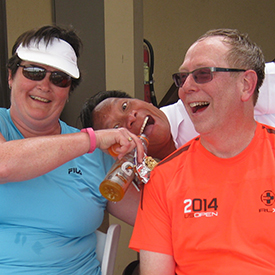 With the encouragement of those in attendance, reservations have already been secured for a return to Smoke Tree Ranch, same time next year!  Meanwhile, highlights of the 2015 meeting were many:
The willing participation of newcomer Ginger Alden in the final day's men's doubles, boosting her "games won" total and raising her to the top of the women's 4.5 contingent
The equally impressive play of other 4.5 women Monika Dalkin and Bonnie Sidoff, who each won 90+ games
The consistent play of Jim and Kay Coghlan, who just kept winning and winning and winning, whatever the event

The second appearance of father-son pair Richard and Randy Sall, with dad giving an intriguing talk on the aging worker.  Also coming back after an absence were Doug and Edla Koehntop from Minneapolis, and Phil and Pedie Jolly from Seattle.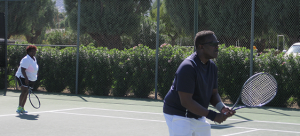 The athleticism and medical expertise of newcomer physician pair Chris and Stephanie Kuhr-Page, who each gave a superb talk and each played inspired tennis
The ageless play of Tawfik Girgis, Luis Cespedes, and Bob and Mimi Combs, proving that you can be competitive well into your 70s (and beyond)
The absence of Frank Sladkovik, who suffered a retinal detachment a few days prior to the meeting and was unable to attend; Frank was missed!
The appearance of Ed and Roxanne Breaux, who had dutifully paid AMTA dues for 15 years and finally came to a meeting.  A winning mixed doubles combination, the Breauxs were tied for most wins by 8.0+ couples
The equally enthusiastic participation of Ed's sister, Mary, who attended her first meeting along with her friendly husband, Mac, a Shreveport plastic surgeon who didn't play tennis, but who appreciated the luxury of a little free time
Happy Hours around the pool enjoying world-class guacamole and, for those with a sweet tooth, a dessert bar that was in a class by itself and included Kurt Neumann's favorite Mexican Wedding Cakes
The cheerful, cooperative demeanor of newcomer Terri Simpson from Portland, who brought her Canadian friend, Freida Coulbourne, who added to the contingent of Canadians in attendance, including the ever-affable Mike and Jane Dawson, and stalwarts Lindsey Horenblas and Grace Szczerbowski
The return of Jack Jacobson to the AMTA after a minor stroke.  Jack was clearly as sharp as ever, evidenced by his astute questions during the CME lectures, and is shooting for a return to the courts by Longboat Key
The oh-so-steady play of Lindsey Horenblas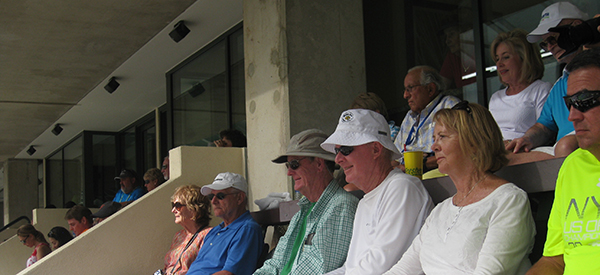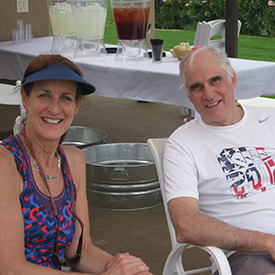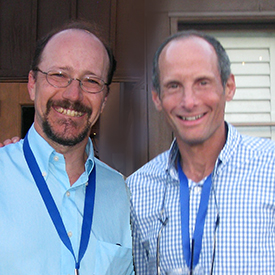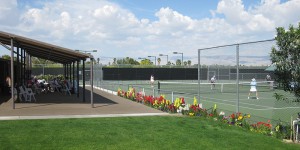 The return of Californians Clay and Ruff Smith and Phil and Carol Bacon; Clay, Phil and Carol all proving they've still "got game" after many years' absence
The thought-provoking presentation by Saundra Ardrey about the politics of health – vs healthcare – in America.  Saundra is chair of the political science department at Western Kentucky University and is clearly comfortable in front of a group of opinionated physicians!
Phong's friendly function as unofficial tournament director, enthusiastic partner, vocalist and, finally, presenter of the 2016 Craig Broome Award to Bonnie Sidoff, whose dedicated participation as AMTA president, ace recruiter of new members, world champion many times over, and now WMTS vice-president earned her the honor.
The collective wisdom of Lon and Betty Olsen, whose mere presence is always an asset
The won't-let-it-get-me-down participation of injured reserves Pedie Jolly (new hip), Jan Waszak (broken collarbone), and Ron Coe and Clay Smith (mild radiculopathy)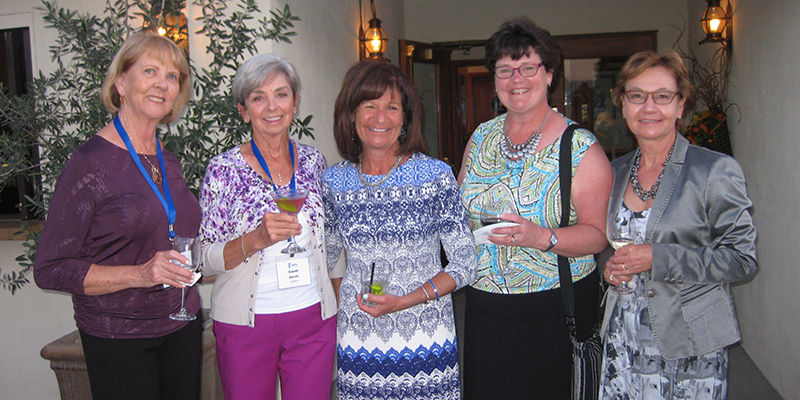 The numerous contributions of President Bruce Dalkin – who transitioned from CME Director to President with his sense of humor firmly in place —  and CME Director Randy Eckert, who coordinated an excellent group of speakers for one of the best CME programs in years
The talented photographic assistance of Raj Sarda and Dawn Eckert
The visit of Martha and Kurt Neumann's son, daughter-in-law and adorable two-year old grandson, Thomas
And last, but certainly not least, the appearance of Ovidiu Adam, whose forcing, relentless game could lead our American team to a coveted Nations Cup victory in Rotterdam this July.  Go AMTA!!