Sunriver 2014

Sunriver Sparkles for 50 Attendees
Bend, Oregon  •  July 6 – 11, 2014
Hot, hotter and hottest were the bywords of the week as AMTA enthusiasts enjoyed a strong speaker lineup, tight matches with an abundance of third set tie-breakers, and happy hours sharing Oregon microbrews and Pinot Noirs, all in the beautiful high desert of Sunriver.  Temperatures sizzled, the competition was hot and the camaraderie warm and welcoming.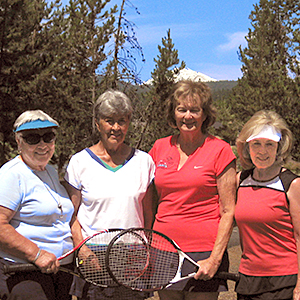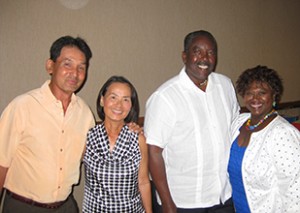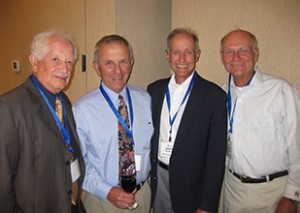 Highlights of the meeting were many …
The return of Jim Manion, Executive Secretary of the World Medical Tennis Society, to an AMTA meeting
An entertaining interlude of Luis Cespedes' stand-up comedy at the Awards Banquet
Presentation of the 2014 Craig Broome award to Frank Sladkovic, the most loyal of AMTA members
The welcomed attendance of five "honorary Americans" – Londoner Earl O'Brien and his wife Alicia, and friendly Canadians Mike and Jane Dawson and Grace Szczerbowski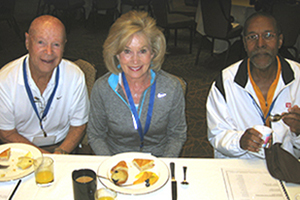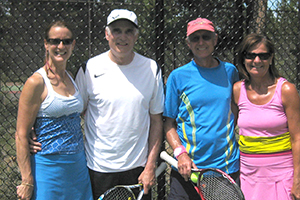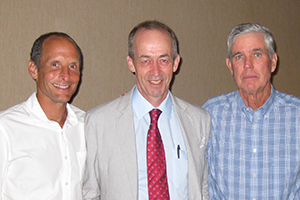 Consumption of over 500+ bottles of water and energy drinks at the 4-day tournament
The winning debuts of four AMTA newcomers:  Jim and Kay Coghlan of Seattle, Mitchell Strauss of Portland and Raj Sarda of Portland
The election of President Bruce Dalkin and CME Director Randy Eckert; both will assume their duties in January of 2015
The inspiring victory of AMTA veterans Cal Nash and Lon Olsen in Mens Doubles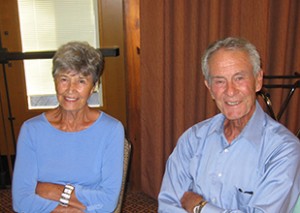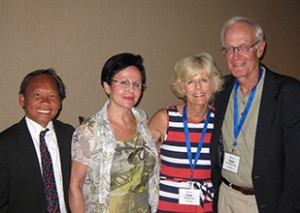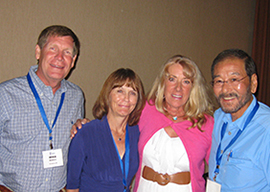 Phong's traditional Awards Banquet serenade – this time toasting the anniversary of Randy and Dawn Eckerts' guests Kathy and Mike Siebers
The success of the new Mixed Up Mixed Doubles, that brought together seven of the stronger women players and seven unattached guys in a very congenial pro-set mixed doubles draw
The interest of ten non-physician spouses, who joined the docs in the lecture hall to hear Green Hsueh's lecture on post-menopausal issues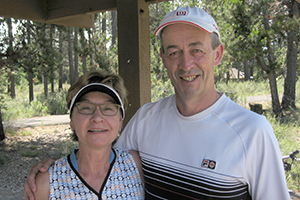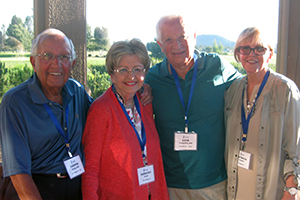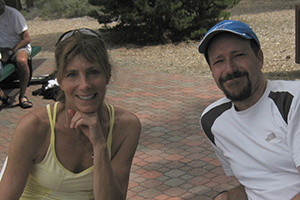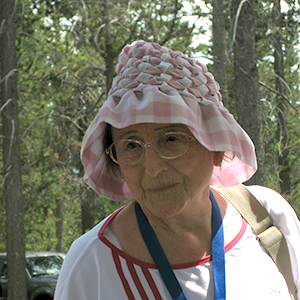 The play of the gracious Tawfik Girgis, retired ENT from Chicago; he and his wife, Dorothy, hadn't been to an AMTA meeting since the late '70s but have already signed up for Smoke Tree Ranch
A vacationing Dr. Larry Corey, who recently stepped down as head of Seattle's Fred Hutchinson Cancer Research Center, and stopped by to give a talk on targeted immunotherapy
The first meeting of enthusiastic newcomer Dr. Joe Howton, who gave TWO lectures, and seems to be bitten by a serious "tennis bug" …
A great time was had by all!