WMTS in Plzen, Czech Republic
August 19 to 25, 2017
Americans Raise a Glass to Victory in the Land of Pilsner
After a lengthy walking tour that took our American team from the stunning Prague Castle on the hill down steep, winding streets to the unique astronomical clock in Prague's Old Town Square below, 22 Americans journeyed to the home of pilsner beer in Plzen, Czech Republic, where we enjoyed spirited international competition on the well-groomed red clay courts conveniently located in a sports center adjacent to the team headquarters.
For the American team, our women's Nations Cup players stole the show.  In an extraordinarily memorable match, the American team comprised of Vicky McEvoy, Allyson Bolduc, Bonnie Sidoff and Jacqui Davis – who first defeated Poland then Germany – faced a youthful, determined Lithuanian team in the finals.  Under the hot afternoon sun on the last day of competition, Vicky, who had already won two golds in other events earlier that day, lost a lengthy Open Singles match to a woman reputed to have been a ranked Russian player.  It was left to Allyson to force the deciding doubles match, and the steady, savvy Vermonter – despite giving up many generations years to her hard-hitting opponent – utilized a patient, persistent mix of baseline rallies, slices, drop shots and well-placed angled putaways to grind out a 6-4, 6-3 victory.  Allyson's impressive win brought Bonnie Sidoff and Vicky McEvoy back out on the court for the final doubles match.   With the sun setting and a lively crowd cheering brilliant play on both sides, the young Lithuanians finally eked out their first ever Nations Cup title in a heart-breakingly close, third-set super-tiebreaker doubles victory, 10-7.
But given the hard-earned victories by so many Americans, the congenial team chemistry and memorable shared experiences with like-minded international friends old and new, highlights were many ….
Bonnie Sidoff's annual additions to her growing WMTS trophy collection: a hard-earned gold in women's singles over her always-determined Polish nemesis, the tie-breaker refereed by an impartial German player; a gold in 65 women's doubles with Jacqui Davis; and a bronze in 65 mixed doubles with Peter Monsantofils;
Jane and Mike Dawson's solid mixed doubles win over a feisty Italian couple, with Jane coming through on several critical points in a very close match; Mike later won a bronze in 55 men's doubles with Jorge Reiley;
The continued excellence of our stellar team ironwoman and all-around gracious competitor, Vicky McEvoy – who won gold in women's 55 singles, a second gold in 55 mixed doubles with Jorge Reiley, and a third gold in 70 women's doubles with Allyson Bolduc;
A delightful cultural evening at the stunning Kozel hunting resort, built in the 1780s, where guests enjoyed sweeping views of the Czech countryside and even a falconry demonstration;
Kay Coghlan's on-court chemistry and close, close matches with her new Swedish women's 50 doubles partner; the two already plan to partner again in Malta;
An excellent pre-trip team practice, dodging raindrops at the Czech Lawn Tennis Klub Praha on Stvanice Island in Prague, former tennis academy home of Martina Navritalova, Ivan Lendl, Jan Kodes and current Czech stars Petra Kvitova and Karolina Pliskova;
[karma_builder_imagebox_1 main_title="Many more photos from this event!" sub_title=""]
[/karma_builder_imagebox_1]
Hugh Burris' addition of yet another gold medal to his vast WMTS collection, this one in 70 men's singles, also winning silver in 65 mixed doubles with wife Carol; Carol Burris then teamed with Cori Kirkpatrick to win silver in 65 women's doubles;
The grand Presidential suite somehow scored by Peter Monsantofils in the Hotel Praha across from the astronomical clock in the heart of Old Town;
The strong family ties of Chris Wen and his wife Vicky, who use the annual WMTS meeting as a reason to get together with Chris' dad and mom, Taipei residents Chi-Peng and Jennifer Wen; dutiful son Chris was at every one of his dad's matches and escorted them to all the social events;
The friendliness of the entire Lithuanian team, future hosts of the 2019 WMTS meeting that will celebrate the 100th anniversary of tennis in Lithuania;
The genuine hospitality and patience of WMTS President and meeting host Jan Kirchner, who greeted WMTS members at Kozel in traditional garb;
The calm under fire exhibited by Kay Coghlan, asked by the German women's 55 women's doubles pair to sit in the referee's chair and call lines during a heated match with their arch-rival Polish opponents;
[karma_builder_imagebox_1 main_title="Upcoming Events" sub_title="" attachment_id="2819″]
Visit mdtennis.org for more information and registration details for the following meetings.
Tops'l Resort & Racquet Club
Destin, FL
November 5 to 10, 2017
Smoke Tree Ranch
Palm Springs, FL
March 11 to 16, 2018
[/karma_builder_imagebox_1]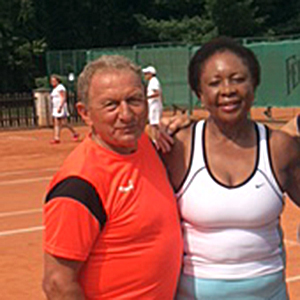 Jacqui Davis' gracious willingness to play with the first of many mixed doubles suitors, even though her Slovakian partner was obviously a singles specialist and knew little about doubles positioning; Jacqui's determination won them consolation gold in 65 mixed doubles and Jacqui also won gold in 65 women's doubles;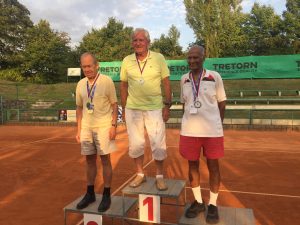 The tour of the Pilsner Urquell brewery, a sprawling historic site where an astounding 120,000 bottles of beer are bottled every hour using a complex, timeless brewing process that hasn't changed since the brewery was built in 1842;
The continued good play – punctuated as always by a characteristic grunt with each stroke – that won Kris Vadlamudi a bronze medal in men's 80 singles;
The two-hour 65 mixed doubles semi-final slugfest between John and Cori Kirkpatrick and their favorite Swedes, Ann and Lars Hagberg, the Kirkpatrickslosing 7-6, 6-4 to the eventual 65 mixed doubles winners in two long, close sets;
Bonnie Sidoff's excellent lecture titled "Metabolic Resuscitation 2017", which she has promised to repeat at an upcoming AMTA meeting;
The spirited points and intensity of Jim Coghlan and Peter Monsantofils in their 65 men's doubles match against a strong, crafty Indonesian/Japanese pair;
The celebratory performance of their national anthem by the Czech men's Nations Cup team at the awards dinner after a grueling win over the favored Italian team;
John Kirkpatrick's determined participation and steady play just 10 weeks following left lateral meniscus surgery, bringing home a bronze in both 65 men's and 65 mixed doubles;
Jorge Reiley's well-grooved topspin forehand, which nicely complemented Vicky McEvoy's all-around game in their 55 mixed doubles victory;
The wry sense of humor and multi-generational travel of Igor Sister, who attended the meeting with both his mother and delightful daughter Sabina in tow;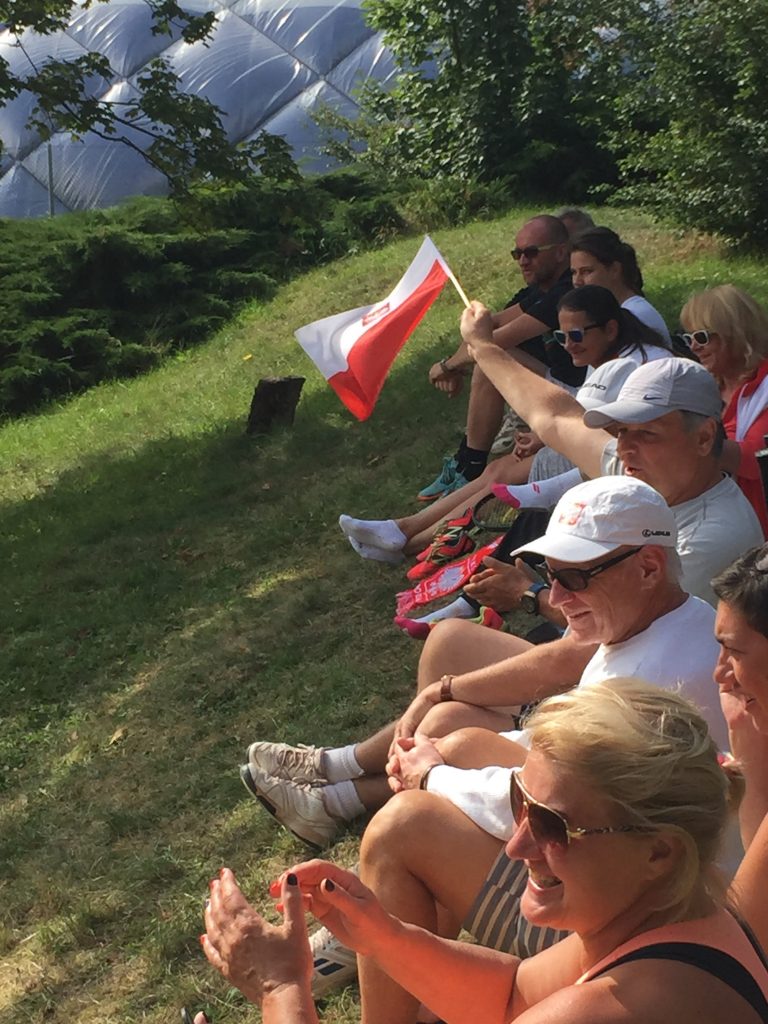 From a Czech Republic biking trip to an English immersion program for Spaniards in the Spanish countryside, the Americans departed in numerous directions at the end of a memorable week.  But everyone's thoughts were with our friends Hugh and Carol Burrisas they headed back to their Houston home to deal with the aftermath of Harvey's wrath.  Good times will surely be ahead as the World Medical Tennis Society meets next September 29 to October 5 on the fascinating, historic island of Malta.  We hope you'll join in the fun!